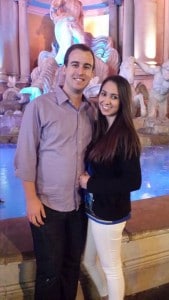 Joshua is a NINJA CPA blogger.
Despite my original thoughts on liking tax, studying for REG has made me extremely thankful that I do not work in tax.
My head has been swimming in deductions and credits and the roughly 400 summary tables for the last 5 weeks. I have never been more motivated to take an exam only once.
We are now less than 6 months out from the wedding, which means bachelor parties, final planning and work conferences as the year rolls on.
Essentially, after May, I will not be able to dedicate 100% of my time to studying until we are back from the honeymoon in October. No pressure, though right?
My future wife has once again cemented her status of CPA Exam MVP by agreeing to review the [A71 product="notes"]NINJA Notes with me and help me remember the mnemonics from the notes as well as the flashcards I have.
She has seen many flip outs and heard pretty much every expletive in the book, but her help is making a very noticeable difference on my MCQ scores.
I have 3 weeks to brush up on Property and Individual taxes, two of my weakest subjects, and continue cranking out MCQs in my free time.
This exam feels like it has been the most grueling and will be the biggest hurdle to the finish line. I am getting closer to realizing my goal and have no intention of letting this exam trip me up.
Time to banish REG to the nether before my final boss showdown with Audit.
HiYa!