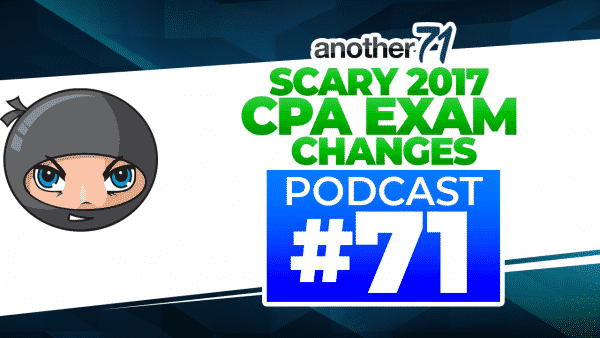 Like the Podcast? Please Subscribe and Review!
[Listen on iTunes]
[Listen on Stitcher]
[Listen on Tunein]
Want to be on the Podcast?
Ask Jeff
Facebook Live
Friday October 28, 2016
1. Mohammed – First of all; Lots of Love and Hugs on your way. I passed FAR in first attempt, studying after 15 years and graduated from foreign country using other books and using your MCQs and Audio. I just placed an order for Regulation MCQs. There is lot of Business material which is for 20 %. What do you recommend to focus on in a month to my exam?
2. Stella – I have some questions for you…
1. Being that I am older than the average exam taker, I need to get this done for my career, plus I have a family and work f/t. Nothing new…. Do you provide some sort of "guarantee," like other courses, that if I do all the MCQs or watch all the videos, etc., and do not pass, I get continued support or updated materials?
2. Will the materials be updated for the new 2017 exam format? What happens if I buy the whole bundle in 2016?
3. Marcus – First of all thank you for the website and being an innovator in the CPA exam world. I have passed all 4 parts of the exam but unfortunately I lost credit on BEC due to the time lapse. Currently I'm studying to take it but feel a little lost with how to prepare and how to know when I'm ready to pass the exam.
I have until November 3oth before I lose credit on FAR (which I desperately hope to not have to lose). I wanted to ask your advice on a full proof method of being prepared and passing BEC before I lose more credit. I'm feeling really worried and anxious, please help.
4. Jessie – I am emailing you in regards to my troubles with the FAR section!!! I made a 74 my first attempt and a 73 on my second. I am down to one last shot at it before I start losing parts!! My diagnostic performance report shows I was comparable in 4 categories and stronger in 1 than those passed. The 2 sections that I was weaker in was specific transactions/events and the simulations. Any pointers/tips on making this 3rd time a charm?
5. Robert – I have my REG exam in 3 weeks and I have been studying for 3 weeks already. I feel pretty confident with the topics on taxation(corp,estate,etc), with 3 weeks left how should I focus my time on studying for the Business law material ? How much time should I spend on this area? Should I focus more on SIMS for taxation instead?
6. Gladys – Hi Jeff – I am reconsidering giving this CPA process another shot. I passed audit back in 2013 but lost the part in 2014. I decided to take a break and concentrate on my personal life. I am now hearing that the exam is about to change again in 2017 and it brought my interest back to try again.
Now, I still have 2013 material and would like to know if i can rely on them. I just lost my job two weeks ago and would like to be conservative if i don't have to buy new material.
7. George – I can't pass the online open book ethics exam. Do you have practice materials that will help me prepare? Thanks.
8. Sanjeev – Please kindly tell me how many hours of lecture is included in REG Audio Course? and does it cover all the chapters including Bankruptcy? is the delivery done via email?
9. Alex – I am studying for FAR, my first CPA exam, (exam schedule 11/21) and am currently on F6 in Becker. I want to utilize Ninja MCQ to be fully prepared to pass the exam as I've heard great things and want to give myself the best opportunity to pass. (I have already purchased Ninja Audio and it is great!)
How have people supplemented Becker and Ninja MCQ? Should I wait until 2 week review to do Ninja MCQ or should I start doing them throughout even if I haven't gone through all the material?
Currently I am reading the book, doing the Becker MCQ, then watching the lectures and trying to re-do the MCQ I got wrong. However I do not feel like I am retaining everything and want more practice plus I have read tremendous reviews on Ninja MCQ but I do not know how to integrate and supplement.
Any advice, tips or help is greatly appreciated!!