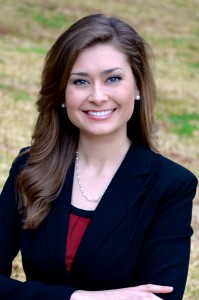 Angelle is a NINJA CPA blogger.
Hey, NINJAs!
I have taken REG since last time you heard from me. My exam experience was pretty typical. Before the exam, I was feeling nervous and unprepared.
During the exam, I was second-guessing myself on every question. After the exam, I could hardly remember anything from the past 3 hours of my life.
Does that happen to anyone else? When people ask me how the exam went, my answer is always the same: "It's hard to tell! I guess I'll find out when I get my score back!"
Speaking of scores, this wait has been the worst for me so far. With FAR, my first exam, I didn't even think about getting my score back. I was perfectly okay with being in the dark because I was so sure I had failed.
With AUD, I had a feeling I had passed, so I wasn't too worried. I was anxious for sure, but I wasn't in panic mode. This time around, the anticipation is really getting to me! I am hoping for the best, but fearing the worst. I have an unsettling feeling that will not go away until I know my score!
I've been trying to focus on studying for BEC, which is scheduled a couple of weeks from now, but the material doesn't interest me at all. I had expectations of this being the "easy" section, but I don't know why people say that.
This is the CPA exam… Don't expect any of it to be easy. There's significantly less information involved than FAR or REG, but there's still a lot to learn! I have realized that you definitely have to put all your effort into every part of this exam.
Between studying for BEC and awaiting my REG score, I am feeling the pressure, so I have been working on ways to manage my stress level. Having supportive friends and family is helpful, but it's also imperative to be able to manage your stress on your own.
Here are some things I've done to relieve stress: going to the gym, cooking my favorite meal, going for a walk, taking bubble baths, Christmas shopping, and coloring in an anti-stress coloring book. (Coloring may sound silly, but it's therapeutic, I swear!)
I encourage you to find something you can do on your own to unwind. Go hiking. Call a friend. Go outside and play with your dog. Sit in your favorite chair and read for an hour. Write in your journal.
Don't let yourself get to a breaking point – take care of yourself so you can get back to studying with a strong, healthy mind! Our goal is to pass the CPA exams, of course, but wouldn't it be great if we kept our sanity in the process?
I wish you all the best in your studies and upcoming exams! Until next time…
Happy studying!