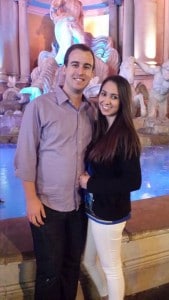 Joshua is a NINJA CPA blogger.
There is a weird feeling of satisfaction getting through your first exam, and then immediately looking forward to the next test.
It is a high, followed immediately by the low of being ¼ of the way through this hellish exam (at best) and seeing the long road remaining to certification.
It helps to keep the end goal in mind when staring at such a grim reality. For me, the reward is a company bonus, the weekends becoming mine again, and the idea that I can help with wedding planning.
Since I had a 3 week gap between my FAR exam and the release date, and I felt better about Audit material on the front end than I did for FAR, I decided to make August a blitzkrieg month and try to study for Audit in a little under 4 weeks.
I am currently finishing my notes and planning 2 solid weeks of 200+ MCQs a day. It will be intense and not at all fun, but the potential of getting 2 tests done in this window is a great motivator for me. Plus, anything that can keep my mind off the impending 8/24 score release is plenty helpful.
I plan to take Audit in August, and REG in October if I pass FAR. If I were to fail FAR, I would retake in a short time frame, using NINJA MCQs as a refresher.
Ideally, I would like to finish the year with at least 2 exams behind me, with REG and BEC as the only tests left to take. It is a non-stop push to keep myself motivated.
I found the best way to keep myself going is to write down everything I get to do when I finish the exam and tape it to the cover of each test study guide.
It seems trivial, but it helps to envision the idea of "Watch every Lord of the Rings extended version in one day" without having to do any CPA studying.
Just like eating the elephant, you gotta get through this exam one bite at a time. Every extra 10 minutes of studying may put you 1 point closer to being done with another exam.
My eyes are on the horizon and I'm pushing as hard as I can to get there!