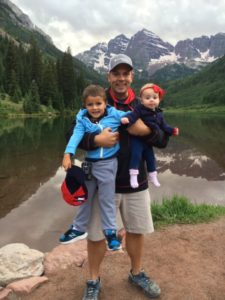 Joe is a NINJA CPA blogger.
Not sure how many of you out there are studying for the CPA Exam with the added responsibility of a full time job and kids. 
I have two little ones under the age of 4. Both require a ton of attention from my wife and I after we both get home from work.
By the time I get home from work, get the kids bathed and eat dinner it is usually around 8:30. My wife also works so the chores are usually split 50/50 (well, maybe it's more like 70/30) but that 30% is a lot!
When you have a crazy schedule, you have to make sure you set aside specific study times each day so there is some sort of consistency.
Most parents know the word "consistency" with two small children isn't used often. The following plan, however, has been working for me and I am averaging 80% on my NINJA MCQs with 5 more weeks to go before exam day.
I also gave myself 8 weeks to study for the exam… since I knew there would be interruptions and breaks in my study schedule.
Monday through Friday I study each day at lunch for an hour. I spend my evening commute listening to [A71 product="audio"]NINJA Audio. I then study from 9-11pm each night.
The weekends are tougher based on what activities are happening. I try to sneak in a few hours of MCQs on Saturday and Sunday when we are really busy…. if not I will spend a few more hours with the MCQs. I also have been taking notes with my NINJA MCQs. I will be re-writing them in a few weeks.
The key is managing your time and trying as hard as you can to get your family into a good schedule that allows you those few hours of study time in the evening. With a few extra weeks of studying I am confident I will be successful when November 23rd rolls around.