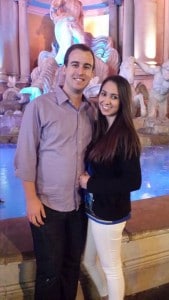 Joshua is a NINJA CPA blogger.
Getting ready for the final week of REG is probably as close to a title fight I'll get in this lifetime.
I spend my days sneaking flashcards under my keyboard while I work, and night blasting my headphones to keep me awake long enough to crank out another set of MCQs at night.
I am afraid I'm going to run in to Prometric screaming battle cries before I sit at my terminal. Something tells me they'd frown upon that.
I have prepped harder for REG over the last two months than I ever did for my previous exams, yet I feel less prepared than for any other test.
I am trending at a decent rate on NINJA MCQs, but I still feel like this test will be one curveball after another come Saturday. I keep sneaking extra looks at my NINJA notes to try and hammer out one more pneumonic before bed.
I have never wanted to be done with an exam more in my life than REG. The thought of impending exam changes and revisiting the Business Law chapters kicks in a new motivation to do an extra SIM at 1AM.
I always thought I would have liked tax, and I even considered looking at a transition to tax after working in consulting for a few years.
After 7 weeks of studying Circular 230 and AGI phase outs, I now want to take my REG exam and immediately forget everything I've learned (or not learned). I give massive props to the tax NINJAs. You are better men and women than me for being able to work in tax.
The final week before an exam, quite frankly, sucks. You feel confident that you've studied hard for 7-8 weeks and that you deserve a break.
But in your heart of hearts, you know there's a weakness or an area that you should devote several more agonizing hours to.
This test demands the best from you and we try our hardest to meet the challenge. The goal is 30 hours of studying Monday-Friday before obliterating this test and closing books on this exam forever. Time to get it done!
Hi-ya!