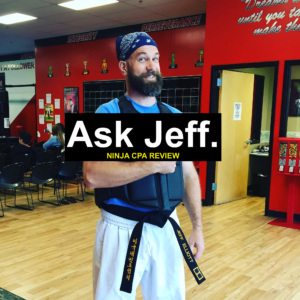 Need CPA Exam Study Advice? Struggling with balancing Life and the CPA Exam and need to vent?
You can Ask Jeff, and your question/comment/frustrations will be answered in an upcoming Ask Jeff/Podcast.
Disclaimer: This is general advice only – I don't know all of the facts/details of your situation. Please keep in mind that my opinion is often wrong – just ask my wife.
Putting CPA Exam on hold – how to stay on the Email List?
"I love your site and all your resources. I am putting off my CPA exams to raise my two small children. When they start kindergarten I will be starting the process again. If you don't mind I would like to stay on your email list. If you do mind I will just find you again when the time comes."
Jeff: Sounds great! Go here to jump back on the email list when you're ready.
Where are the Live CPA Review Classes?
"I'm a frequent viewer of your videos and look forward to using your ninja material as I start my CPA journey. Keep up the good work! Question/thoughts that always comes amongst my coworkers and I is how there is no true CPA study course/guidance (and no, going to a class just so that the instructor can press play on the video does not count). My current wife who is a PA and my friend who is a lawyer had hours upon hours of live instructor guidance/teaching to prepare for their board exams. I believe the pass rate is above 85% if they attend exam prep courses.
Why is it that the CPA Exam is not given such a structure when it is viewed as a top profession? I would love to see in the future an 18/month course where proven instructor guide you through the material and set you up for success instead of failure. Love to hear your thoughts!"
Jeff: Back in the day (pre-interwebs), there were live CPA Exam classes all over the place. It's simply not an efficient method of studying. You have to go to some classroom, deal with people, get set up, take notes for a few hours, and then leave. In the amount of time that you commute to the location and back, you could have knocked out an hour of studying (marketing alert: unless you have the NINJA Audio, of course, which allows you to study on the go ;). It's just an antiquated way of studying and not necessary any more with technology.
Can I Use 2016 CPA Review Material in Q2 2017?
"So I'm retaking Audit in Q2 2017. Can I use my Becker 2016 material to study for the new exam? Is there any additional material that's being added to Audit? Lastly, would the same apply for REG? Can I use my 2016 Becker material and NINJA MCQ's to test in Q2 2017? Thanks for your time!"
Jeff: No new material is being added to Q2 2017 exams. There is a lot of hype/hysteria right now about the Q2 changes. If anything, some topics are being removed from exam sections (like Dodd-Frank) in REG.
The April 2017 CPA Exam changes summed up:
Fewer MCQ, More SIMS and Breaks, and Higher Order Skills tested.
Does anything about the April 2017 CPA Exam change how you study? No.
Concepts are still Concepts. MCQ are still MCQ. SIMS are still SIMS.
If your 2016 materials are updated for July 2016 – I think you could still use BEC, REG, and AUD…but not FAR.
(of course, if you're using NINJA Materials, you don't need to worry about outdated materials) 🙂
NINJA MCQ won't be changing for Q2. We'll be rolling out something new for BEC SIM prep, but the base MCQ software will still be fine for Q2. It's important to note that any BEC SIMs floating around out there are homegrown, because the AICPA has't released any to the CPA Review providers.
BEC Written Communication Time Allocation Suggestions?
"How much focus should I really allocate to the written communication section if my MCQ grades are in the range of 65-70%?"
Jeff: Your MCQ scores should be up in the mid-80s. Your knowledge of the concepts will play out in the written communication – even if you need to BS your way through it. Master the concepts via the MCQ and you'll have a fighting chance with the Written Communications. I would practice the Written Communication section somewhat, but don't go overboard – maybe a few hours max.
NINJA MCQ has 20+ Written Communications with answers if you want to practice them.
2015 cpa review materials for 2017 cpa exam?
"Hi! I am back at it. I began studying for FAR back in December 2015. I never actually sat for the test and I have now decided that I am going to start re-studying for FAR. However, I have the July 2015 Wiley study materials (bought all 4 parts together) and I am wondering if using the July 2015 material can be used to pass since the test is changing. I really want to avoid having to spend money to buy updated material but I also don't want to waste my time if this will prevent me from passing. Thanks!"
Jeff: I would get brand new materials. The "oldest" materials I would use would be July 2016 for AUD/BEC/REG and I would use fresh 2017 study materials for FAR. The CPA Exam is too expensive monetarily and emotionally to take shortcuts using old materials.
NINJA MCQ and the April 2017 CPA Exam
"Will NINJA MCQ work with the April 2017 CPA Exam changes? Are these NINJA Audio materials updated for the revised exams?
Jeff: Yes – NINJA MCQ will work just fine for Q2 2017. The NINJA Audio will also work great for Q2 exams. Again, the CPA Exam concepts aren't changing with the new exam.
Accounting is still accounting.
Tax is still tax.
BEC is still … horrible.
Taking REG without any experience
"Hello, I'm beginning to study REG without any experience about TAX. Can you recommend which study material fits me best, NINJA Notes or NINJA Book? Thanks so much."
Jeff: Definitely the book. The notes are more of a cram/review. The book dives deep into the concepts, which is what you want.
Internal Control required for non-issuers?
In your NINJA Notes, it says internal control is required now. Does that mean starting from q1 2017, both issuers and non-issuers are required to report on internal control?
Jeff: That is correct. AUD had a few tweaks to it in January and that's one of them. This video covers them quickly as well…