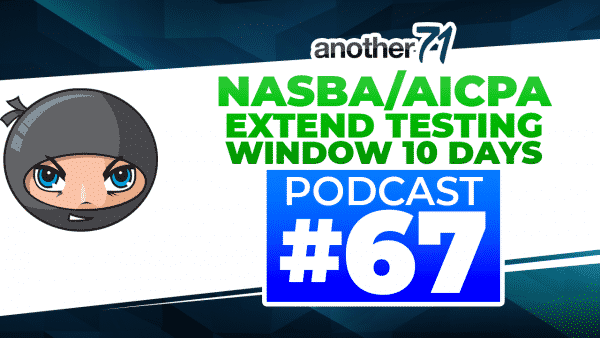 CPA Reviewed #67: NASBA/AICPA Extend Testing Window 10 Days
The CPA Reviewed CPA Exam podcast is back! In this episode, we cover:
Intro: NASBA/AICPA extend CPA Exam testing window 10 days
New Section: CPA Exam Terms from NINJA MCQ:
FAR – A/R Turnover
BEC – Hash Total
AUD – Positive/Negative Confirmation
REG – Qualifying Small Business Corporation (IRC Section 1244)
See also: Free CPA Review Materials
Podcast: Play in new window | Download
Subscribe: Apple Podcasts | RSS
Like the Podcast? Please Subscribe and Review!
[Listen on iTunes]
[Listen on Stitcher]
[Listen on Tunein]
Want to be on the Podcast?
Ask Jeff
Facebook Live
Questions covered
1. Stephanie – Hi Jeff, I recently found out I failed FAR for the second time (~60s). My score only went up 2 points from the first time I took it. I have been studying FAR since September and just feel very discouraged. Do you think I should try and take BEC or AUD and save FAR for later? I am working 40 hours and summer is when my work will be slow so I'm not sure if i should focus on FAR in the summer or just keep pushing through FAR and try again? Thank you for your help!
2. Jonathan – took FAR in January after studying for three months. I got a 71. I knew the reason was because I got hit with three simulations from the last chapter on Becker which I did not know as well. I started studying for Audit while I was waiting for my FAR score. I took Audit Feb 29, just got my grade, and got a 71. I thought I killed that test. Everything seemed to go great. I don't know where to start.
While I was waiting for my audit score, I started reviewing FAR for my 2nd retake, thinking that Audit was in the books. Now, however, I don't know what to do. I don't know if I should retake FAR or Audit April 1. I don't know what to study more for Audit.
3. Amanda – Jeff, I just found out that I didn't pass FAR with a 72. This will be my third attempt with FAR (74, 70, and 72). Unfortunately, I lost my credit for AUD, which I passed by reviewing for one week with a 81. At this point, do I restudy for FAR and attempt early April or focus on passing AUD again? I'm currently working full time at a CPA firm and have a small family. Thanks for any and all advice.
4. Valerie – I've taken FAR twice and got a 70 and a 73. I've been using Roger CPA Review and am considering getting your NINJA MCQ. I was wondering if there are any reviews that I can look at? (link: NINJA MCQ Trending vs Actual Exam Scores)
5. Carrie – Jeff, I asked in another email if the NINJA Notes layout mirrors the NINJA Book and thought it would be a good podcast question.
I also have a note taking question. I also believe that the key to solidifying my learning is writing. However, I have found with my current "highlighter heavy" program, it is nearly impossible to take thorough notes while running the video as it moves along so quickly. Short of stopping and starting over and over again do you have any recommendation? I am currently using the highlighter and making the class notes in my book and later transcribing these into MY set of notes but I was wondering if I was missing something simple.
6. Douglas – Jeff, I just wanted to thank you for how helpful your materials have been so far. I am not sure if people reach out to you personally but I am getting extremely nervous about my exam. I am going into a real estate company as an analyst where I will be working under the partial supervision of a CPA and accounting is held in very high esteem, though it is not an absolute requirement as at an accounting firm.
My father, mother, grandfather and uncle are all CPAs. With this new job beginning, and my wife due to have our first kid in May, my nerves are getting wrecked. I passed BEC and AUD so far and it took me 5x to pass AUD. The most frustrating part was when I took it the 4th time and my multiple choice score went up and my Sim score went down! I'm not sure why I e-mailed but I know you were in a similar situation and you had 3 kids when you passed.
7. Kristen – Jeff – hey! I was wondering if you're looking for any more bloggers? I am starting the CPA journey (again). Moving, kids, job changes have halted previous progress. I am a Sr Manager at my current firm with a CISA. The CPA has been my goal since I graduated HS, I just lost sight of it!
8. Scott – Hey Jeff I am trying to decide what CPA review to use and it seems like yours might be the best and most affordable (I am just about to graduate from college and am currently broke haha). So I was wondering how much is it for the entire review course with everything in it? And if I follow your plan roughly how long does it take to finish and be ready for the CPA exam?
9. Vincent – I already have Wiley CPAExcel, but should I supplement my studying with only NINJA MCQs since I already bought the whole Wiley CPAExcel? I took BEC and failed once. I don't want to buy the comprehensive NINJA products because that would be overkill.
10. Craig – My access to Gleim materials has expired with the exception of FAR and I have only passed the BEC section. I have prepared for REG with only your Ninja MCQ by means of reading answer explanations and creating my own flash cards. For my retakes with REG (unless a miracle happens)and Audit what materials from your site do you recommend that will give me the most bang for my buck while still being cost effective?