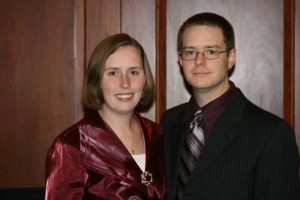 Jenny is a NINJA CPA blogger.
My name is Jenny, and I work as an accountant at a firm in our hometown.  My husband, Jon, and I have TWO sets of TWINS (Yes, you read that correctly).  They are 3 years old and 8 months old.
Needless to say, we don't get much sleep, have much free time, and our house is always a disaster.  Playing 2-on-4 is sometimes unfair.  However, we wouldn't change it for the world.
I started working in the accounting field in 2004 at a local firm.  My main focus was taxes, specifically small businesses and individuals. Unfortunately due to downsizing I found myself job-hunting a few years later.
Luckily this hunt was short and I found a job working at a midsize firm in town.  The focus there was still taxes but larger businesses and more partnerships.  After a year, I again found myself job hunting due to downsizing; this time I decided to return to my roots and work at a small firm.
Due to personality issues, I moved onto my current firm, where I have been for the past 5 years and loving it.  I get to work with variety of different industries and provide various types of services.
I have sat for the Exam a number of times
BEC – 44 (Feb 07), 67 (Aug 07), 68 (Jan 08), 67 (Aug 08)
FAR – 54 (Oct 07), 46 (May 08)
REG – 56 (Feb 05), 66 (Jan 06), 69 (Aug 06), 79* (Nov 06)
AUD – 61 (Oct 04), 69 (Aug 05), 62 (Nov 05), 58 (May 07), 60 (Nov 07), 68 (Feb 08), 66 (Jan 09)
Today is the day that I am making the commitment to move on and finally, once and for all, pass these exams.
Today I am committing to the following:
Burn (literally) old outdated materials
I am saying goodbye to my old materials from other sources and starting fresh with the NINJA CPA Review Materials.  (All the other materials are collecting dust and outdated anyway)
I will commit to spending less time playing games on the phone, browsing Facebook constantly, and watching TV (time is limited enough already).  Lastly, I will schedule study time and stick with it.
I will commit to making weekly blog posts to keep myself accountable to the world.  I want to be able to document my FINAL journey in taking these exams.  (Yes, I used the term FINAL, because I will finish this journey this time)
I will commit to doing whatever it takes to pass these exams.  I might miss my kids, or might miss my spouse, but I am done saying the words, "WANT TO PASS"
Today I will begin saying "GOING TO PASS"
Spousal Insight
Over the course of many years I have seen my wife struggle to take and pass the exams.  This time it's different.  This time we have children.  And not just one, not two, but four (under the age 4).
So, what is this going to take from a spousal perspective?
I have come up with a few items that I (as a spouse) am going to have to commit myself to:
Assisting her in finding time to study
I will work with her to devise a workable study time schedule.  I will help by entertaining or taking care of the kids. This might mean, taking the kids out of the house, or getting her out of the house to go study somewhere.
Assisting her in staying committed
This is my spousal duty to support her 100%.  There will be times when she is going to get mad at me for suggesting that she goes and studies, and that is OK.  I will commit to taking that.  As a spouse, I must continue to support her and keep her committed to her task.
Be willing to separate from my spouse (metaphorically) temporarily
In order to fully support my spouse in this effort, I must be willing to see less of my wife (at times) so that when this period of time is over, I will be able to spend much more time with my spouse
Assisting her to find a space to study
Study areas can kill your study efforts. Therefore, I need to make sure that her study environment is comfortable, accommodating, peaceful, and organized.  Since we just moved into a new house a little over a year ago, we have a fresh slate to make this happen.
As I have done for many years, I will support her in this effort.  In the end, I want to be able to say that she has finally passed the exam.  Whatever it takes to make that happen, I am willing to commit to.
Want More NINJA? Read more from the NINJA Bloggers here