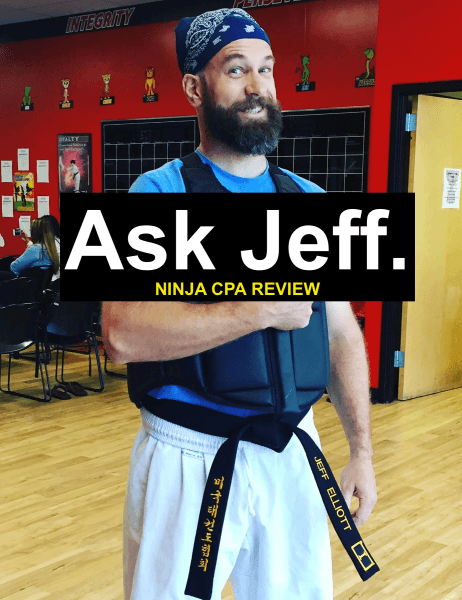 ---
1. How many questions get you to 100% of the NINJA MCQ recon stage?
You will complete the Evaluation Phase after you have seen 15% of the questions in your exam section. For example, if your exam section has 2000 MCQ, you'd need to attempt 300 questions to enter the RECON Phase.
---
2. How should I use the supplemental CPA Review material? Read through the whole thing? or check find the information in that section when I need it?
I developed the NINJA Study Framework for this exact type of question. It details my suggestions for how to study and in what order the materials should be studied each week leading up to exam day. Get the Study Framework.
---
3. I never used Authoritative Literature for my previous CPA exams (passed BEC). But not sure if that would be helpful for the AUD exam. I thought of getting comfortable with it before my exam which I am planning to appear in the first week of September.
I'm a big fan of using the AICPA sample test. If you can work the AL component on the sample test, that should be good enough for exam day.
Get the AICPA sample test.
---
4. What happened to the Bisk CPA Review videos? Did they all become obsolete?"
You're referring to the Bisk videos. Some of the videos are fine (Cost Accounting), but much of it is obsolete (revenue recognition). You can still view the Bisk CPA Review videos.
---
5. I had a question about the Reg exam I have scheduled on 10/5/20. When will the study material be updated to reflect the CARES act? I am just curious about the extent of testing of this new material and the possible short amount of time to study it.
It seems like we just updated the REG materials. Oh wait – we did! 🙂 We'll get them updated by early-mid September. Sure, some things changed, but REG is still a very conceptual exam and big testing changes means the AICPA has to comb through their gigantic test bank, so I don't think it will be a huge deal.
---
6. I just signed up with the NINJA CPA Review course. I took Audit twice with my Becker materials, I got 72 and 73. What do you recommend doing with the NINJA materials? Do you think I should read the materials again and do more MCQ."
There are two paths:
Path One: Use Becker and NINJA.
Path Two: Use NINJA Only.
---
7. I am taking the REG exam at the end of Aug. Some of the tax phase-out and limitation needs to be memorized. Should I be memorizing the 2019 numbers or 2020? For instance, Sec 179 limits. For 2019 it was $1,020,000 and $2,550,000 and for 2020 it is $1,040,000 and $2,590,000. Which one will be tested on the CPA exam if I take it in Aug of 2020?
Great question. REG is now testing 2020 numbers. I personally reached out to the AICPA examinations team and asked them for clarification on Section 179 specifically because of the inflation issue. Should CPA candidates memorize the base number of the inflated number? Check the REG NINJA Notes – I specifically answer this question on page 26 with the numbers you should use.
---
8. Hello, my name is (redacted), I am a 23-year-old, who just graduated from college. I took my first ever CPA exam, FAR in mid-July. Yesterday, I found out, and I am extremely embarrassed to even write this but I scored a 54…
This is the worst piece of news I have had in YEARS and I am so devastated right now. I had a feeling deep down that maybe I did not pass, but I did not think I was going to score THAT low. I thought I was going to get like a 68 – 72ish range…
Everyone around thought I was going to pass since I studied so hard, which makes this fail, hurt that much more. I know some friends or I have heard many cases where people fail because they did not put in the time or effort but that was not the case for me. I start full-time at (Big 4 firm) on October 1st, and my original goal to be finished with at least three sections passed before I start working, but that is not going to happen anymore. I get a lot of pressure from my Accounting friends/other CPA candidates on forums to "get as many CPA exams done as soon as possible before starting work".
I am very nervous about studying and while working with the brutal hours of public accounting. The thing that is the most upsetting to me about this fail is I did not "cut corners". I spent about 4.5 months and about 300+ hours preparing for FAR. I used Becker, I did everything Becker told me to do. I watched the lecture videos (highlighted/wrote notes the book when they told me to), then after each lecture, I would take my own notes (to be honest, I felt like I was not absorbing the material though while taking notes or just rushing for time), then I would do the MCQs and then the SIMS (for each module).
I honestly went super slow and slightly less serious at first taking about 1.5 weeks to do each module, (mostly because I was still in school and then things turned upside with COVID and then I had to move back home). By the end of F10, I honestly forgot almost everything I learned before F7.
Then I spent about a month reteaching myself all of the material and reviewing by redoing all of the Becker MCQs, a lot of heavy topics SIMS, made flashcards, and Becker's final review. By the end, I honestly thought I was likely to do well enough to pass, and before my exam did not feel terrible about my knowledge of the FAR topics and thought I had a decent grasp on the material. I honestly still feel like I do remember a decent amount of the material, especially the Becker mnemonics.
The thing that still shocks me the most was that my Mock exams scores were not bad, and I even made a 74 on my last Becker Mock exam! (Everyone I know talks about the Becker Bump, I feel as if I'm the only person who had an opposite Becker bump).However, on the day of my exam, I decided to take a 7:30 am exam and I will admit I was pretty tired since I am not an early morning person.
For some reason, I feel like I really blanked on my knowledge of simple stuff during the multiple-choice that I did know and I got hit with a lot of not commonly tested areas. Also, the Simulations were absolutely brutal and I felt very unprepared for them. I do suffer from test anxiety, but despite that, I did well in my college and graduated cum laude in my Accounting program. For some reason or another, despite the rave about Becker, their strategy most likely did not work for me.
In the end, looking back, I think just memorizing how to do Becker questions (I would literally memorize questions on accident.) Also, maybe I did not have as great of an understanding of the concept behind the questions when seeing in a different format on the exam. I am still confused about how I did THAT badly though. Also, during my first FAR study process, I was always obsessively going on social media reading what works for other people and their tips, which was helpful at first, but then became a toxic cycle of me always feeling dumber than everyone else on these sites and losing confidence in myself.
Today, I made the decision to delete both of these apps and all social media off my phone because I think they caused me more harm than good in the end. I want to eliminate all distractions to pass.I am not going to lie, even though I am quite young and I do not have real-adult responsibilities such as providing for a family or full-time job yet. I was and I am burnt out by this process. I honestly have not taken any time off between ending college and studying for the CPA, besides maybe a Friday night or Saturday/Sunday off every so often or the 3 days after my first FAR attempt.
Sadly, I do not think at this point, I have any time to recharge since I will be starting my full-time job soon and I will not have as much time to study when I start working.I did actually start studying for AUD for the past 3.5 weeks, using the same Becker traditional method, but at a very fast pace and I stopped taking notes because my friends who passed AUD said they are a waste of time.
But after getting back my results yesterday, I know this method will not work for me. I need to change something. The only thing I like about the Becker method is their SIMS and skill review videos. After having a long discussion with my Father, who is also a CPA and thinking deeply to myself as well, I decided I want to retake FAR first while the material is still fresh by using a new and improve studying method working on active learning rather than taking AUD and having to potentially face another fail using a method that does not work for me.
That is why I signed up for NINJA since the program seems to focus on understanding the material first and constantly reviewing. I have also heard wonderful things about the program as well. To be honest, by this point I feel like I still memorized a lot of Becker context and questions. Do you think I should just use NINJA solely for my retake to get a fresh perspective? (Maybe with Becker just for SIMS).
I know Ninja has some of the same questions as Becker but I know there is a lot of new and different resources I am eager to try for a new, fresh start, Also, since I will be full-time studying for my FAR retake, how much time do you think is reasonable for me? I was thinking four-five weeks at first, but I have been listening to your youtube videos most of the day for tips and inspiration, they are great and motivating.
In one of the videos, I heard you stay four weeks it is not ideal for FAR, and more like 7 weeks or so would be ideal. However, since I will be studying full-time for this retake, would that be different? I DO NOT want to fail again and will do everything in my power to prevent this from happening.
One last question should I take notes during the N phase or just the I and J phase? I was slightly confused by that one part bit. Sorry for my venting. Thank you so much for taking the time to read this extremely lengthy email. I truly appreciate it and what you do to help CPA candidates. Looking forward to hearing back.
Sorry to hear about your results. Given what you told me, however, I'm not surprised by the outcome and the reason is this: You studied too long.
There are "experts" out there who flop around and foam at the mouth when I say 7-8 weeks max for any exam – period, end of story.
The reason is this:
While you have to learn the information, you also have to "cram" it into your head and barf it out on exam day. Studying for 4.5 months killed you.
THE GOOD NEWS
You'll be fine.
Use Becker and NINJA (might as well use Becker since you have it).
This time, however – be sure to use the NINJA Method
(Nail the Concepts … etc)
4 Weeks studying full time?
Yes – IF you can stay disciplined.
If you can't keep Netflix from magically appearing on your tv/browser, then be real about that – and make it 5 weeks.
Final thought – don't sweat the pressure to be done before you start work.
If it happens – it happens, but it likely won't – and be ok with that.
Do you know how many Big 4 employees use NINJA? A lot.
Which means … they didn't pass before their employment started either.
You'll be fine 🙂
In regards to notes, take notes over the N, I, N, phase…essentially while you're learning the concepts and working MCQ.
---
9. Where can I get more help with the stock questions? I have trouble with the stock splits, sales, and wash sales.
I'd start with sections 2I (Equity) and 1D (Public Company Reporting Topics – U.S. SEC Reporting Requirements, Earnings Per Share and Segment Reporting). Login to NINJA MCQ.
---
10. I'm trying to learn how to study for the FAR exam. Are we supposed to read the NINJA book before starting the audio, or do it simultaneously in the two weeks?
Do them simultaneously. Listen to the NINJA Audio from the start – even if you haven't studied the sections you're listening to. This does two things:
1) It allows you to listen to the audio as many times as possible, and I hate to say this, but you'll be hearing my voice in your head before this is all over.
2) When you study the content, it will click better since you've already heard some of it before.
---
11. Looking at NINJA MCQ and Notes – do you have a bridge from NINJA Notes to Becker MCQ?
We don't have a bridge from NINJA to any CPA Review course per se, because the materials work independently of each other. Start reading the NINJA Notes, even if you haven't covered the topic in your main course.
If you cover, say, Bonds in the FAR NINJA Notes, then when you view your Roger lectures, for instance, it will click faster.
Also, the notes are topical, so matching up Audit Sampling in the NINJA Notes with your course should be fairly straight forward, even if your course is organized by the blueprint.
---
12. Before I sign up for the NINJA monthly membership, I'd like to discuss a few points and request for a response to my queries:
I have Becker's Exam Review v3.5 for FAR and REG. For December 2020 Becker has come up with v3.6 for FAR and REG.
In July 2020 course updates have been introduced.
My finances, currently, don't permit me to buy the upgrade on Becker. It makes better sense to take up NINJA as it offers a host of other benefits too.

Please confirm if the course updates for FAR and REG 2020 are included in the NINJA course material.

The July 2020 Becker updates listed include

for REG:

– updates for tax provisions in Further Consolidated Appropriations Act

– updates for final BEAT Regulations and

– updates for the annual cost of living adjustments throughout the syllabus

for FAR:

– updated course coverage for long term construction contracts

– updated course coverage of fair value disclosures required under US GAAP

– deleted course coverage of the percentage of sales method of estimating uncollectible or doubtful accounts.

I believe that CARES Act updates will be plugged in in October 2020 which will be testable for December 2020 exam. Is that correct?

After signing up, will I have access to all sparring sessions of the week or will the sparring session access be restricted to the course that I have signed up for in month 1?

Are the full versions of NINJA MCQ and SIMs downloadable?
I have Becker's Exam Review v3.5 for FAR and REG. For December 2020 Becker has come up with v3.6 for FAR and REG.
In July 2020 course updates have been introduced.
My finances, currently, don't permit me to buy the upgrade on Becker. It makes better sense to take up NINJA as it offers a host of other benefits too.

Please confirm if the course updates for FAR and REG 2020 are included in the NINJA course material.

The July 2020 Becker updates listed include

for REG:

– updates for tax provisions in Further Consolidated Appropriations Act

– updates for final BEAT Regulations and

– updates for the annual cost of living adjustments throughout the syllabus

for FAR:

– updated course coverage for long term construction contracts

– updated course coverage of fair value disclosures required under US GAAP

– deleted course coverage of the percentage of sales method of estimating uncollectible or doubtful accounts.

I believe that CARES Act updates will be plugged in in October 2020 which will be testable for December 2020 exam. Is that correct?

After signing up, will I have access to all sparring sessions of the week or will the sparring session access be restricted to the course that I have signed up for in month 1?

Are the full versions of NINJA MCQ and SIMs downloadable?
We update what we believe will be on the exam in a material way. So – just because something is testable, we may include a large update, a very small update, or no update because it's beyond the scope.
Every course has its own editorial philosophy. Becker CPA Review may include something in an update that NINJA doesn't because we feel it's too nuanced, or visa versa.
Our courses are updated and the CARES Act update should be out within the next week.
You can attend any live sparring session…the replays are for your own section subscription if that makes sense.
The NINJA MCQ and SIMS are not downloadable…they are online only.
If this all sounds good to you, sign up to become a NINJA.
---
13. Can you please explain the NINJA MCQ Trending Score?
Your NINJA Trending Score is calculated based on your most recent 250 MCQ attempts. The Trending Score calculation also takes into consideration the Weighted Average for each AICPA Blueprint area.
This is to prevent someone from only working one blueprint area and scoring 100% from having a false sense of security because the other sections of the blueprint are in play on exam day as well.
---
14. I have a question. I have failed auditing time for the 5th time. 50, 62,68,53,68. I took NINJA on the 2nd try. I honestly don't know if I can re-read 900 pages. Wondering if I should do CPA tutoring or just buy your service and cram again for 3 weeks. Stuck in a pattern. Mom of 2, who kids are doing distance learning and working part-time. Also, my husband is working from home
Sorry to hear about your results. There are many people in your shoes and feeling the same way, so please know that. I am curious as to what happened study-wise from #3 to #4 to cause a 15 point drop.
From my experience, that is due to someone "cramming". When someone fails an exam, I always recommend doing exactly what you did to get the failing score PLUS more … more studying … more resources, etc.
You're back to a 68 and heading in the right direction. Whatever you did to get the 68, repeat it exactly PLUS add something like NINJA. We have CPA Exam tutoring, as well as all of the NINJA materials, so you're getting both with your NINJA Monthly subscription.
My writeup on recovering from Failing the CPA Exam would be a good (and quick) read.
---
15. I currently use Roger CPA Review to study and plan to use Ninja MCQs as a supplement to my studies for my 2nd retake. I'm having a hard time correlating the blueprint sections stated on the MCQ's with my sections in Roger CPA. For example, question #3876 states it is in the PPE section, however, I wasn't able to find that in my notes from the PPE section that I took from Roger.
I wouldn't invest time in try to match things up…if there is something in NINJA MCQ that doesn't line up with Roger CPA Review exactly – that's ok, just learn from the question and move on is my advice.
One of the hidden benefits of using more that one source of materials is that they may be lined up differently and you'll likely catch some nuance of a topic that you previously missed that could show up on exam day.
For instance, some providers don't cover Partnership Accounting as a separate topic, but it's still testable on FAR (despite not being listed in the blueprint), and NINJA has it listed as a standalone topic in the NINJA Notes.
---
16. I have my AUD retake coming up on Tuesday and have a few quick questions I think you can help me with.

How important is getting the RECON Phase % to 100?

How important is it to focus on "questions not seen"?

I am trying to follow the Ninja advice and hit 20 MCQ for each blueprint topic/subtopic till I get a 70% and then move on to the next.

But I am curious about how important the questions above are or if they are something not to even worry about (just worry about getting a 70% on each 20 MCQ set) or is it better to focus on having an overall percentage of 70 or higher for each blueprint area?
Most NINJAs don't get their RECON phase to 100% Keep hammering NINJA MCQ & reviewing the NINJA Notes. The only score that matters is on exam day.
If you're doing a set of 20 MCQ as a review, then I think it makes sense to do "questions not seen" just to cast a wider net concepts-wise vs redoing questions previously missed.
If you want to use the blueprint for your review (vs going through questions "topically"), then if each blueprint area has 6 subtopics, then pick two or three subtopics (depending on the number of MCQ in the subtopic – use your judgment) and work 20 MCQ using that population of questions.
---
17. I am curious as to the order of the audio/and notes that I should listen to/read as I read the Ninja book. I'm trying to stay on the same topic when writing my notes and listening to the audio but it does not seem to be in order. Could you please clarify?
The NINJA Notes and NINJA Audio don't correlate to the NINJA Book, except topically (but very loosely). The reason for this is that the notes/audio aren't a condensed version of the book. They are their own standalone review tool and are for different phases of the N.I.N.J.A. framework than the book. I wouldn't try to line them up, but instead use the book to nail the concepts (the N in "N.I.N.J.A.") and then move on to the MCQ (the second N in N.I.N.J.A.) I would read the NINJA Notes every chance you get as many times as you can. I would also continually listen to the NINJA Audio – in the car, working out, etc and try to listen to it all the way through once a week for maximum benefit on exam day.
---
18. I was wondering if Partnership Accounting is still tested on FAR? I'm reading conflicting information and I was wondering if you had any input?
Yes – Partnership Accounting is still tested on FAR. It's not located on the blueprint anywhere, but it's still testable and I've confirmed this with the AICPA. You should know the journal entries for partnership formation. It's listed in the FAR NINJA Notes on page 85.
---
 19. I am new to Ninja, I understand the textbook notes and note-taking part however when I get to the MCQ is it by topic with the NINJA Book or set up differently? What does doing by topic mean, and how do fellow ninjas take MCQ by Chapters/parts?
The NINJA MCQ and Book/Notes/Audio are not synced with the MCQ chapter for chapter. The MCQ goes by the topics (categories) of the AICPA Blueprint. This makes it easier to drill down later to find your weakest areas to improve them (see Week 7 of the NINJA Study Framework).
The reason why the Notes/Book/Audio aren't synced to the blueprint is because some topics are split across various blueprint sections and we felt it was more helpful to CPA Candidates to learn topically and then test their knowledge via the MCQ according to the blueprint.
Different people use NINJA MCQ in different ways. The way it is designed to be used, however, is that you let the system randomly feed you questions during the Evaluation Phase.
Then, in the RECON Phase, the system will know your strengths and weaknesses and feed you questions to optimally maintain your knowledge in the stronger areas and improve your knowledge in your weaker areas.
---
20. I am currently using NINJA and planning to take BEC at the end of September. I have been doing mcqs daily and currently trending at 53% for every 30 question MCQ set. Thoughts?
It's likely that you're not doing enough questions in other areas of the blueprint, as NINJA MCQ uses he weighting from all areas of the blueprint to calculate the NINJA Trending Score. Work more in your weak blueprint areas and your Trending Score should improve.
---
21. What is the technical aspect behind the MCQs? To clarify, does the program choose the MCQs by your weak points when you do a random quiz during the RECON phase? Also, what is the RECON phase, and should I be gunning for 100% on it?

Thank you for taking the time out for my questions, and thanks for all the hard work you put into your program!
If you don't select any other options, the system will first randomly give you MCQ to determine your strengths and weaknesses. Based on those strengths and weaknesses, it will then feed you MCQ to help maintain your strengths and improve your weaknesses, mostly by giving you more from your weaker areas.
I would do what you can…rare is the CPA Candidate who makes it to 100% RECON.
---
22. I've taken audit twice and failed both times with a 67 using Becker. My score report indicated I'm stronger on the multiple-choice questions but weaker in the SIMS. What should I do? I know the material but my application is the problem. How can I master the SIMS?
With a 67, I would caution you against focusing on the SIMS, because conceptually, there are some holes in your MCQ understanding as well. Some people just "cram" SIMs, which is a mistake. While CPA Exam simulations carry equal weight to the multiple-choice questions, they don't carry equal study weight. Certainly, work more sims, and go 80/20 or 70/30 (max) MCQ/SIMS. On your retake prep, do everything that got to your 67 (which will mean re-studying from start to finish as explain in my post on CPA Exam retake strategy) PLUS hit your weak areas harder, and add NINJA to supplement. For your retake, use NINJA MCQ for the Non-Stop MCQ portion of the framework, and use your Becker test bank for review.
---
23. Unfortunately, I failed FAR on my first attempt. Since I still have the study material fresh in my mind, is it possible to just hammer out NINJA MCQ and SIMs for 28 days straight and retake with a passing grade?
If you go this route, then every single MCQ you miss or almost missed, write down the "nugget" that the question is testing. My official retake advice is to start over from scratch. However, just between you and me, it's a viable strategy IF you are careful.
Make sure you review sparring videos over weak areas, and read/listen to the NINJA Notes/Audio every chance you get. If you cram, do it right.
---
24. I have now passed AUD and FAR this year. I am wondering what you believe which CPA Exam section should I take next?
It's a coin flip, but go ahead and do REG since it's the second-hardest CPA Exam section (behind FAR) in my opinion.
---
25. I hope you're well/safe/healthy! I'm a little concerned about the changes in CPA concepts. NINJA Mike stated in a Sparring session that the PUFER pneumonic for OCI has changed slightly. In the past, it was just the effective portion of cash flow hedges that were added to OCI. Since 2019, there was a publication that announced OCI is going to include BOTH ineffective AND effective portions of cash flow. I'm taking the exam this September. Do you know if I'm supposed to know these changes? Does NINJA regularly update with these changes? I suddenly got paranoid that I'm answering OCI questions correctly in NINJA and suddenly the method is different for the real exam.
ASU 2017-12 provides partial relief on the timing of certain aspects of hedge documentation and eliminates the requirement to recognize hedge ineffectiveness separately in earnings.
The ASU eliminates the concept of hedge ineffectiveness for financial statement recognition purposes. While the hedging relationship still has to be highly effective in order to apply hedge accounting, the ineffective portion of the hedging instrument is no longer required to be recognized currently in earnings or disclosed.
As such, For cash flow and net investment hedges, all changes in the fair value of the hedging instrument (i.e., both the "effective" and "ineffective" portions) will be deferred in other comprehensive income and recognized in earnings at the same time that the hedged item affects earnings.
Rest assured, all NINJA CPA Review material is regularly updated according to the AICPA's policy on new pronouncements.