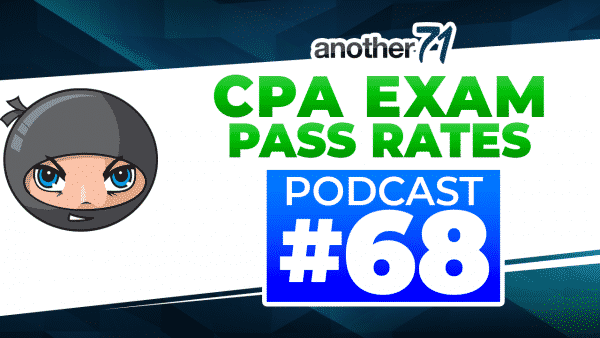 Like the Podcast? Please Subscribe and Review!
[Listen on iTunes]
[Listen on Stitcher]
[Listen on Tunein]
Want to be on the Podcast?
Ask Jeff
Facebook Live
The CPA Reviewed CPA Exam podcast is back! In this episode, we cover:
1) Q1 CPA Exam Pass Rates released by the AICPA
2) Your CPA Exam Questions:
Karan – I need to take FAR, REG, & AUD before the end of April. I know I could've planned better. What is that I can do to pass the 3 parts?
Crystal – I will be graduating on May 12th. I am taking an auditing class and international econ class with finals on May 4th and 5th. I have a proposed schedule for my exams and I wanted to get your input. If I schedule my first exam for the end of May, second for mid July, third for end of Aug, and last for mid Oct, do you think this is feasible or too aggressive? I plan on ordering your Ten Point Combo program this week to start preparing.
Jordan – I recently listened to your survivor's guide to the CPA exam. It was an informative listen and if I'm being honest a gut check of my motivation and degree thereof. I currently have Becker which my job paid for, runs out in July.

I need to pass all 4 parts with having only sat for FAR and making a 63.

It really hit home when you said that if you make a 74 you aren't one point away from passing. At this time I am commuting roughly an hour and a half each day and made use of chapter one audio notes. I'd like your advice on what materials you offer and what you think may work for me.
Ash – I have failed twice in REG with a "Weaker" simulation but a "Stronger" in MCQ. I want to know the best way to get atleast a Comparable in Sims which would help me in passing REG. Please advice.
Eve – I have questions on whether to take the CPA exam in total since I got my BEC 73, 74, FAR: 67,74, AUD: 70, and REG: 71. The past year has been a real torture. I used NINJA AUD, FAR, and BEC and I am at about 50-70% pass rate. I kinda don't know whether to continue to take CPA since I am working in Risk Consulting at Big 4. Or I am not suitable for this. Or I may not know if i have a wrong way of studying?
Nechelle – Need some advise on my direction with my CPA exam. I took FAR during Jan/Feb 2016 window and got a 73. The area i was weak in was MCQ and it does not surprise me since I was only able to get through 1/3 of the NINJA test questions and was trending a 69.

I am currently studying for Audit and I am scheduled to take Audit April 30th.

My question is should I jump back into FAR for the next 2-4 weeks and retake that exam in April or continue on with my Audit study plan and re-take FAR after April Audit exam?

I started Audit study at the beginning of March.
Kassi – First off, I am not studying to become a CPA, my beloved sister is. However, I have extensive experience with studying for long and difficult licensing exams. I am desperate to help her study and pass. She has failed FAR, AUD, and REG by 10 or more points and is now studying for BEC. She took the Becker prep course, listens to lectures from another source that I can't remember the name right now, takes practice tests, and mostly studies pre written note cards.

I found that studying with a partner helped keep me focused, but since I have no experience in accounting, I am worried that I will just waste her time with advice that doesn't relate to her study needs. I am fully prepared to spend the time learning the study prep material as if I were going to take the exams myself. I was wondering if you had any advice for me as a study partner for her.
Jae – I am currently using the Becker review course and I am wanting to purchase more MCQs along with the SIMs for REG, AUD & BEC. I just recently failed BEC with a 72 and I was wondering if Becker truly prepared me well enough to tackle the exam. (I did all of their MCQs.) My question is… does the NINJA MCQs and Becker MCQs overlap? and if so by how much?
Loan (

on

facebook

) – Quick question, section 179 clarified by IRS in 2015 is $500,000/$2,000,000. But ninjia material is using $25,000/$200k . Which one is right currently?
Frances – In NINJA MCQ, are the simulations broken out by topic?
John – What is the "complete" package vs the 10 point combo?
Ashley – Jeff, I m still studying for FAR, half way through; and planning to use Ninja Test bank. My question is when should I start do the MCQs, when I m done with all material, half way, close to finish? Just some background about me: non-accounting major; doing not quite accounting related work either.
Sean – I currently am trying to beat the 2017 CPA Exam changes and get all my exams done before then. However, I don't have my Master's yet, aka the extra 30 credits, I need to make my CPA official. So if I pass all my exams before the exam changes in 2017 will I need to do anything extra to make my CPA official, other than the 30 credits, or are there only going to be major changes for the exam next year? (PS I'm in MA if that helps)
Bailey – I am getting ready to apply to sit for the exam, and I have no idea where to begin. I am more of a hands on learner, do you have any suggestions for study courses? I have a hard time retaining information if all I am doing is listening to or reading materials. Also I was thinking of trying to get two sections in my first window, FAR and BCE. I have a little one at home and work full time so I will be studying as much as possible in my free moments, do you have a good timeline for someone as busy as me?
Cristin – I am on my third retake for AUD. This was the first exam I took and I think my nerves got the best of me. I only scored a 63. The second time I increased my score to a 71 with the help of ninja notes. Now I am on try three. I bought the 10 point combo and have been focusing my study efforts on Ninja MCQs. I am about 8 days from taking my exam. I have an average score of 85% for the MCQs my trending is higher because I rework the questions I got wrong until I get them right. I am nervous about the SIMS because that seems to be my weak spot. Do you think I am prepared? what can I do to cram over the next week?
Rich – Hi Jeff,

I've been at this CPA pursuit for a while now. My issue is that I don't think I have enough discipline or drive to accomplish it. I do believe I can do it but I just have fallen short in the past. Accounting isn't really a passion of mine which might be the reason for the lack of drive to get my CPA. However, I've always wanted to have one because I might as well since i'm doing accounting work. Another reason I believe that I may not be that driven is that I'm very comfortable in my current situation. I'm sure if I lost my job and I needed a CPA to get a new one or make myself more marketable I would go after it with guns blazing.

I put the pursuit of a CPA on hold for about 3 years now and for whatever reason I have the urge to pursue again.

But here is the other thing… I'm a single guy that is currently dating and hoping to find someone special to marry. Is it possibly for me to juggle both the single life in dating (which I don't want to sacrifice or put on hold any longer) with the studying needed to pass the CPA exam? If so how do you advise I go about possible making that work?
Catherine – Hi! So I used your MCQs studying for REG with barely a month before the exam and I passed! Now I would like to take AUD but it's busy season. I have AUD and FAR left, and BEC expires on September! I need advice on how to take on this situation. Thanks!
Chris – I realize you must get this question a lot, but I wanted to get your feedback. I have FAR scheduled for May 7th. I have been reading the book and it is taking me a longer than expected to get through everything as fast as possible (on page 150 out of 1,000). I am using the Wiley CPA Excel review software. I work 50 hours a week at a CPA firm. I wanted your insight on what Ninja material you recommend me purchasing to supplement my review for FAR and help me get through reading all the material efficiently? I am sorry if i sound stupid. Any help is greatly appreciated.
Mish – Hi Jeff, I'm currently not enrolled in the CPA program but I am going to. I graduated 2 years ago from a Bachelor of Commerce degree specializing in accounting. The problem is I feel like I don't remember anything from school. I also was the type of student who memorized what was needed to pass and didn't take the effort to fully understand the concepts.. which I regret. Do you have advice on what I can do now before I enroll? ie. re-read university textbooks or do some CPA review courses? I also work full time so I don't want to enroll until I have a good foundation.
John – Hi Jeff, I'm preparing to take my first CPA exam in July 2016 and have chosen BEC. What is the best way to take notes from Ninja BEC book

?
Devin – I am currently on module two (management accounting) and am not even close to beginning the CPA exam. I am curious.. are Ninja materials worth using to help with passing the individual modules?I figured if I am was going to study as if I was taking the CPA exam, surely the modules would feel like a breeze.
Jay (on Facebook) – Hi Jeff, I am at the Non-stop MCQ phase of studying. Should I do MCQs for one chapter at a time or a mixtures of chapters? I am taking REG in April.