CPA Exam Questions: Free Ones Don't Work, Here's Why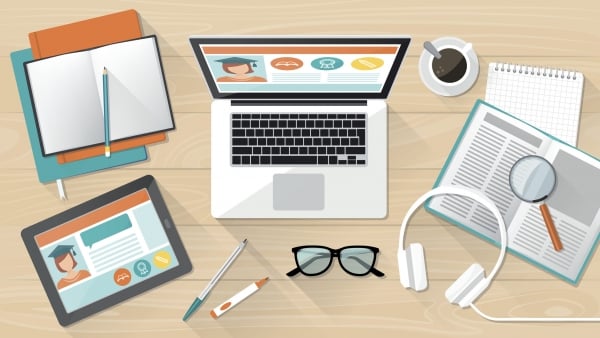 So you are looking for some free CPA Exam questions.
Do you want to know the real reason you're not seeing the results you want?
Why do you keep risking failing the exam, even though you're studying your heart out and chugging Red Bull like it's your job?
Or maybe you haven't even tried to take it yet because you don't have the confidence that you'll be able to pass.
Or maybe you've failed multiple sections, multiple times like me 😢
Either way, the answer is the same.
It's not because of the way you're studying. It's not because the test is just too hard. And it's definitely not because you're not cut out to be CPA and should just resign yourself to a lifetime of flipping burgers at McDonald's.
The real reason is that you're not studying the right material.
The dark side of free CPA exam questions
One site compiled a list of all of the "free cpa exam questions" on the Internet.
Altogether, it adds up to 1,735 free CPA Exam questions and task-based simulations.

"No way!" you say, and you happily study the 1,735 free exam questions while feeling like you just got a great deal.
So you work on them for a few weeks, pay the $200 to sit in on your first exam, and breeze on through…
Then you go home and continue studying your free material while impatiently waiting for your results.
Until one day, you log onto the NASBA website and finally see a…
Fail.
That's right. A failing score.
One hundred hours of your life and $200 down the drain ($230 if you count the "I'm going to drink my pain away" tab you're about to rack up at the bar tonight).
But… what happened?
The psychology behind why people search for free CPA exam questions is simple. They either:
Think they can pass by only studying with free resources.
OR
They don't have a lot of money.
In the case of #1, they're just going to have to learn the hard way. And in the meantime, they're going to lose a lot of time, money, and self-esteem.
I should know. In 2008, my CPA scores looked like this: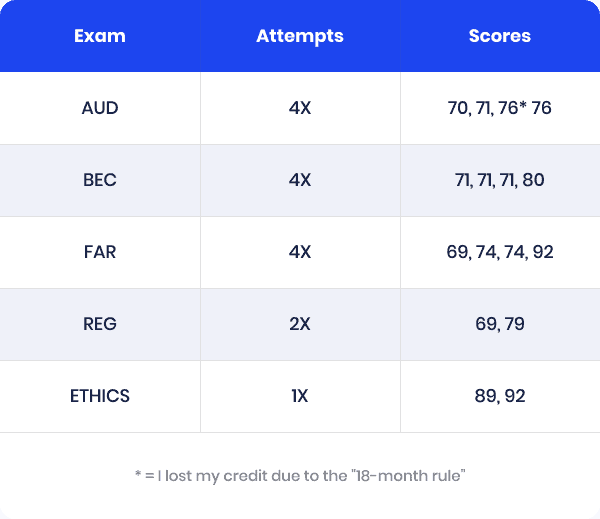 Yeah… not a fun time. I was constantly stressed, spent a lot of money on testing, and my self-esteem took a real nose-dive.
For those of you who don't have a lot of money, however… there's a light at the end of the tunnel.
See, free materials don't work for a couple of reasons. Here's why:
1. The Exam Changes Every Year
The CPA exam isn't a static test you can just sit down and take.
Instead, unfortunately, it's a living, fluid entity that changes every year. The AICPA updates the CPA Exam Blueprints yearly to keep up with changes happening in the world—sometimes they even update it twice a year.
This can make it difficult for free resources to stay on top of the many changes happening every year. Which leads us to our next point…
2. Nobody is Motivated to Update Free Resources – Especially Free CPA Exam questions
Because free resources are, well, free, there's less incentive for the companies putting them out to update them. Free CPA exam questions are long, difficult, and constantly changing, which makes updating them on a yearly basis even more difficult.
But that doesn't mean that nobody updates free resources, which leads us to our third problem…
3. The "Free" in Free CPA Exam Means Someone's Trying to Sell You Something
It's sad but it's true… there's no such thing as a "free lunch".
If a company is offering "free CPA exam questions", chances are that it's because they want to sell you something.
And how do they sell you something?
By not giving you everything you need to pass. By keeping out key material so that you'll have to buy their courses at a premium.
Let's take a look at one of the top results that pop up when you Google "free cpa exam questions"—an offer from a CPA exam prep company.
They offer free CPA Exam questions and task-based simulations, completely for free.
But in order to access it, you need to give them your name and email… which leads to them sending you promotions for their courses… which you'll need to purchase because the free material they gave you wasn't enough to pass… and their most popular course starts at $2,999.00…
Yikes. With prices like that, it's no wonder everybody's looking for free material.
But Don't Give Up Just Yet… Free CPA Exam Questions Are A 'Thing'
Now, it's not all bad that companies are trying to sell you something because the cold hard truth is…
Free CPA Exam Questions Aren't Enough.
"But wait," you say, "Weren't you just talking about how everybody's trying to sell me something?"
Yes I was… and that's not necessarily a bad thing.
See, the fact of the matter is that the CPA exam is just too long, too difficult, and too darn fluctuating to be covered by free materials. Let's take a look at the numbers: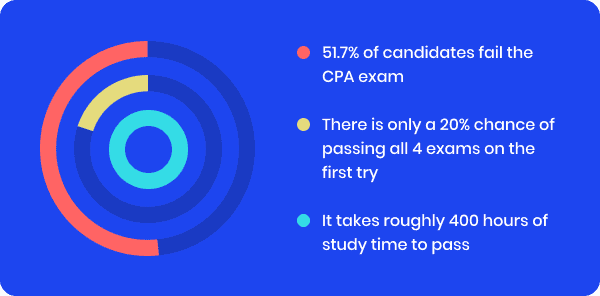 In short, there's a lot that goes into preparing for the CPA exam. Nobody is going to put in the enormous amount of effort it takes to constantly update something that isn't making them money in some way.
So now, the question becomes: "Where can I get the best bang for my buck?"
You want to get the test bank that will have you pass the CPA exam the first time around, for the least amount of money… right?
To do that, you'll need to know three things…
1. What You Can Afford
When I created the fool-proof multiple choice test bank that led to me passing the CPA exam the first time around, I had a lot going on.
I had:
Two kids under the age of 5 who needed baseball gear for Little League
A newborn baby who needed A LOT of diapers
A mortgage that was stressing me out
And a wife who liked to shop
All of this to say that I didn't have a lot of time and I didn't have a lot of money.
I definitely couldn't afford a $2,000 course that might not even help me pass.
So, I designed a test bank that I could use at a low price and with the least amount of time investment possible.
You should gauge your needs similarly as well and ask yourself:
How much can I afford to spend on Free CPA exam questions?
How many hours per week can I spend studying them?
Once you know what you can afford, you can then begin to assess paid test banks more realistically.
2. What You Already Know
The second step is to audit your knowledge—what are your strengths? What are your weaknesses? Have you already taken any of the exams and passed or failed?
And this doesn't just apply to your knowledge of accounting and finance. Take into account your test-taking skills. Do you perform better on the multiple-choice portion or do you have an especially difficult problem with task-based scenarios?
This will help you choose a test bank that appeals specifically to you. Some test banks offer solely multiple-choice free cpa exam questions, while others can be paired with other study material for a discount price.
Once you have a clear understanding of your foundation, you'll be better equipped to make the choice that makes sense for you.
3. When You Plan to Take the Test
Different candidates take the exams at different rates. What might take one student 6 months to breeze through might take another 2 years through no fault of their own, and that's okay.
What isn't okay is wasting money.
Before purchasing a test bank, you'll need to take a good, honest look at how long it might take you to complete the entire CPA exam.
Don't skip this part, because it's important. We like to tell ourselves that we'll get right on it and finish it ASAP, but sometimes life gets in the way or you're beat after a hard day's work, and all of a sudden it's been a year and a half.
If you're not realistic about how long it will take you to complete, this could be a problem…
Remember when we talked about how the CPA exam changes every year?
This incentivizes some CPA prep courses to only provide their material for a certain amount of time. That way, candidates who don't pass within the deadline are forced to pay for the material all over again.
Now, I'm not saying everybody does it… but some do.
So, it's important to keep in mind how long it will probably take you to pass and whether or not the material you purchase offers access until you graduate or only access for a limited amount of time.
The "Perfect" Test Bank
I've been a licensed CPA for 12+ years now.
But I wasn't in 2008.
In fact, I'd taken FAR, BEC, and REG 4 times before I finally passed them all within the span of a year.
Basically, I've been around the block a time or two, which is why I want to put forward what I think of as my "perfect" CPA exam questions test bank.
Looking at the time between me failing my exams multiple times and finally passing them, you might ask: What changed? What was it that finally clicked so that I could pass all of my exams in less than a year?
I didn't change my lifestyle. I didn't quit my job or go on a month-long mountain retreat to study without interruptions.
In fact, my life back then was full of interruptions. I was:
Helping out at my local church
Working a full-time job
Raising three kids
Taking care of my wife, who had just given birth to our newborn
I didn't have time to work my way through hours upon hours of prep material…
And I couldn't afford to keep failing my exams… or even pay for an expensive $2,000 prep course.
Instead, I put together my own material. This material was designed to:
Provide a structured study plan so I could pass my exams in only 20 days…
With the minimal amount of effort required…
While providing only what I needed to know to pass… so I could get on with my life.
And it worked! I passed all of my exams with shockingly high scores. Even my wife was surprised.
Now, back in 2008 I started a blog—this one, actually. I was just so tired of trying and failing, so I reached out to others… And they responded.
With their help, I was able to put together a lesson plan that helped me pass… and in turn, I started NINJA CPA Review and began to help others.
The last time I checked, we had over a million page views per month. Our CPA Exam Forum has well over 600,000 posts. To date, we've helped tens of thousands of CPA candidates pass.
You see, people really resonated with NINJA CPA Review, and in particular, our CPA exam questions within NINJA MCQ, because it is the only AICPA accredited offer of its kind. There are a few things that we offer that no one else does, like…
A monthly billing system that only costs $67 for access to our complete study course. Instead of charging +$2,000 like other CPA Review companies, we only charge you a small fee for every month you use our course. Don't like it? No problem because…
You can cancel at any time for any reason, even if the reason is for no reason at all. Unlike other companies, we don't lock you into a contract, which leads me to my next point…
We offer a 30-Day Money Back Guarantee. If, for whatever reason, we don't live up to your standards, we'll promptly refund your money and you can keep your materials as an apology for wasting your time.
Now, you might be saying you only came here for free CPA Exam questions—fair enough.
Take a look around and some of these "test banks" out there.
One company sells theirs for $999.
Another for $600.
Oof. Does your wallet feel lighter yet?
That's half the price of a full prep course… and it's only the test bank.
You might as well fork over $2,000 and get the entire course for that price.
Or… there's another option.
Once I got my butt in gear, I finished the CPA Exam in less than a year. Some of my customers take less time, some take more time.
But, it's reasonable to assume that it will take you about a year to pass.
If you multiply the $67 monthly fee by 12 months, you get $804.
That's $195 less than what you would spend on a single CPA Exam questions test bank.
And what's more…
You're not just getting a simple little test bank with us.
For $67/month, you get:
6,000+ multiple choice questions —the same questions my students use to pass the CPA exam in record numbers
1,760 PDF pages of pure information
412 pages of notes for when you need to focus your studies
117 CRAM Videos—never worry about not having enough time to study ever again
Our Proprietary NINJA Study Framework
Over 200 task simulations—never feel unprepared for a question again
Weekly online group tutoring—receive mentor and peer support
Digital flashcards—study alone or with a partner
Trademark E.L.L Study Planner—manage your busy schedule for a stress-free experience
Private social network—access to thousands of other candidates who are also taking the exam
CPA Tutoring (yes – we actually include weekly live CPA tutoring in our price – and yes, we're a little crazy)
Seems too good to be true?
Well, it probably is.
You see, I originally started NINJA CPA Review to help others in the same position as me. I've been there. I know how painful it is to keep failing over and over again. I also know how frustrating it is to not have the money to drop $2,000 on a course.
So I decided to level the playing field a little bit and offer a CPA course that anyone could afford. I'm not trying to make a buck off of students who are struggling. I'm just trying to help the community the same way it helped me back in 2008.
And hopefully… I can help you too.
Free CPA Exam Questions, In Conclusion
When it comes down to it, free materials just aren't going to be enough to give you that extra boost you need to pass the CPA exam.
They might help expand your foundation of knowledge… and they might help you get an idea of what you need… but they should be an appetizer, not the entire meal.
Instead, explore free CPA exam questions but also keep an eye on the paid test banks I mentioned.