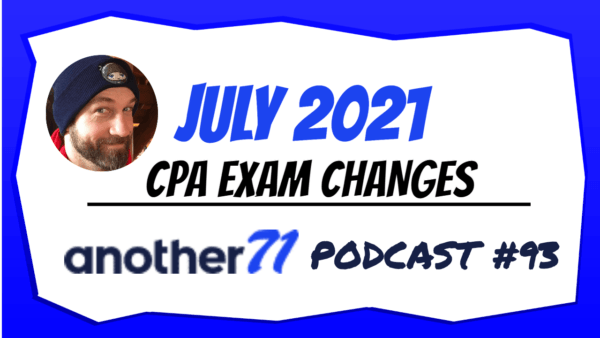 July 2021 CPA Exam Changes – Podcast #93
Podcast: Play in new window | Download
Subscribe: Apple Podcasts | RSS
Questions covered on this CPA Exam Podcast:
"What are the CPA Exam changes after July 1?"
"Many CPA study programs market their materials with prescribed study time amounts. How is Ninja CPA Review different?."
"How do I study for FAR? I have been out of school for years and the massive amount of information overwhelms me. Help!"
"I passed FAR & REG without notes but failed AUD & BEC. What would you recommend for someone like me?"
"What kind of advice do you have for someone who is scoring in the mid 60's and above in more than 2 retakes!"
"I sat for AUD and got a 70. I'm wondering if the CPA Exam is for me. Any study tips? How long should I study for my retake?"
"I failed AUD and I don't know how to approach the subject again. Feeling absolutely lost."
"I received a 73 on REG and lose AUD at the end of July… At least I have FAR for over a year…Please advise!"
"REG – I have gotten a 72, 74, and 68. This was just using Wiley CPA and I now have purchased NINJA. Any advice."
"Would love to hear Parents perspectives/testimonials. I have 3 kids (ages 9,3,1). How do I make it work?"
"For MCQ, what strategy do you recommend? Do I need to see all of the questions?"
"I had two of the exact same simulations on both FAR exams. I've contacted the AICPA, but am not getting any guidance."
"I need help towards a strategy for my Audit retake after a 54. I'm using only NINJA this time."
"I like the abundance of CPA Exam MCQ. I wish there were solution videos. Videos where you went thru problems and sims."
"I have tried your method waking up early, lunch, and late but I run into burnout and lose study motivation. Any tips?"
"Is NINJA CPA Review a standalone review course or would you recommend that I use it as a supplement?"
Have a question for the podcast? Ask Jeff.