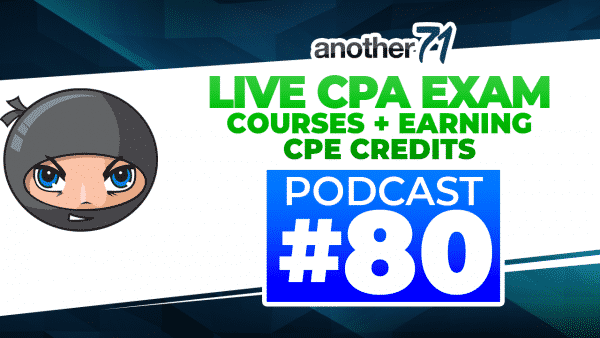 Podcast: Play in new window | Download
Subscribe: Apple Podcasts | RSS
Brandon – I've been out of school for some time and would like to test my skills to see where I am with the knowledge needed to pass the CPA Exam. I think I need an assessment exam to let me know what to focus on. Do you have something or know something I can use?
Seth – I'm trying to select a CPA Exam Review Course. There seems to be only one course offering live CPA Review classes now, which i think will help me with structure, etc. But I've seen a lot of blogs complaining about the live classes and the price. What do you think of live classes, and are there other prep courses that you especially like?
Alfonso – I just graduated with a B.S in Accountancy and I have all of the requirements needed to take the CPA Exam in Arizona. I was wondering what steps I need to take in order to take the CPA Exam? From my knowledge I need to send in transcripts and an application. Can you please provide me with a better checklist?
Mika – I find it hard to review everything if all I have is a giant text book. I am looking for a good key points summary notes for my review times. I was wondering if I could get a sneak peak of your AUD review notes? Do you offer a preview?
Numbersqueen – My exam is in a few days. I'm really struggling with the hedges, derivatives, and future contracts. Mostly, knowing which rates to use to determine if there is a foreign gain or loss. Sometimes you use the spot rates, sometimes the 30 or 90 day rates. It's a bit confusing. Can you make this clearer? Thanks in advance.
Mohammad – I want to know when a CPE credit hour is earned? At the beginning of the course or at the end? Logic suggests it should be at the end of the course, but I to make sure.
Patrick – My AUD exam is coming soon, and I have a few questions pertaining to the revenue and purchases cycle. Can you explain remittance advice and what that is? I see remittance advice and get that confused with the purchases side.