Hi everyone!!!
Exam day is getting closer, REG on 4/29…
I have spent the last week working Wiley MCQs. My personal goal is 100-150 MCQs per day. In addition to that, I have been listening to NINJA Audio and reading my notes during the day.
Monday through Thursday, I am going for 3 to 4 hours, Saturdays 6 and Sunday 4.
I have now mastered approximately 70% of the material, 30% more to go. My problem or main issues are with all the details that this exam has. My scores on MCQs are so unpredictable from low 70s thru mid 80s :/. Thankfully, I have a little more than a week to go.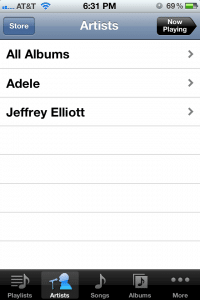 This week I wanted to show you the 2 "artists" that I have on my iPhone: Adele and Jeffrey Elliott. LOL. You can tell that I am not into music, or I might have being studying so much that since I bought this phone I have not been able to add my music…..my favorites: Luis Fonsi and Laura Pausini (I know, you don't know who the heck these 2 are).
Back to the exam, since I still have more than a week for my exam, this week I will continue working on MCQs and SIMS with Wiley's test bank, listening to NINJA Audio and going through the notes. I think that will be the plan until 4/28. Studying hard for a beautiful score.
Good Luck to all!!!