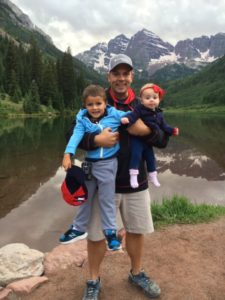 Joe is a NINJA CPA blogger.
After 10 weeks of studying, I waited until 11PM MST to receive my scores. After a few minutes of not being able to log-in, my score was revealed….an 80!
I was very excited to see a passing score, especially after having a terrible feeling leaving the exam that day.
I thought there was no possible way I could have passed that test, but I did and I completely attribute that to two things: hard work and determination.
Here are a few pointers that I learned from this exam that I hope will translate to passing scores on the other sections:
Stick with a study plan. I tried to study an hour at lunch and two hours at night before bed. Some days I would get in the full three hours, most days only two and some nights only 1. Just keep studying and try your best to get as much done as you can.
Take your time. I have a full time job managing 6 people at a major corporation and a full time job at home with two kids under 4. For as much as I would like to pound out a study section in 6-8 weeks, it did not work for me. I felt that this extra time let most material really sink in. I wasn't just memorizing things, I understood them.
Get the NINJA Audio. Listen in the car, listen while doing chores, listen while working out. This audio was my key to passing this exam. It is really helpful in identifying important topics and easily explains certain topics that are tough to comprehend while reading.
I am knee deep in Regulation right now. I have listened to my NINJA Audio a few times and plan to take the exam at the end of February (I have a year-end coming up).
Stay strong NINJAs!