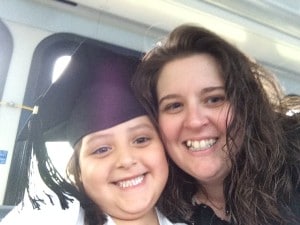 Christina is a NINJA CPA blogger.
We all know how stressful these exams are. Most of us stop our lives just to get through these exams.
Being a mom, I've tried stopping as much as I can, but there are still some things I just have to do and then there is life on top of it all.
I am a Girl Scout leader and we had a mall lock-in from 10pm Saturday night to 6am Sunday morning.
I can't remember the last time I stayed up all night like that, but I did it for the girls so they could have a good time and meet other girl scouts. I brought my tablet, just in case I had some down time to study and I finally did, at 4:30am.
You would think that at 4:30 am I would do horribly on NINJA MCQs, but I didn't. I got 95% of the questions I worked on correct. I can't even do that well in the middle of the day when I'm wide awake.
I got so frustrated that I could pass the questions when I was so tired, but then realized that I was stressing too much on this exam.
I had planned on taking my exam mid-February and because of how horribly I was doing, have pushed it to the very beginning of the 2nd quarter. It doesn't help that I've been stressed out at home so that has caused me to lose focus.
I have started to talk myself into being less stressed about this exam and know that I have what it takes. We are all stressed from these exams, if we weren't; I'd be worried. Sometimes you just need to take a deep breath and remember your reasons for taking the exam.
Now I'll get on the treadmill for a little while, sit on the floor and play or color with my kids so I can be less stressed going into studying, and I've been retaining more.
I'm not thrilled that I'm pushing the exam to April, but I know that it'll be better for me in the long run and I'll be less stressed about trying to pass the CPA Exam.